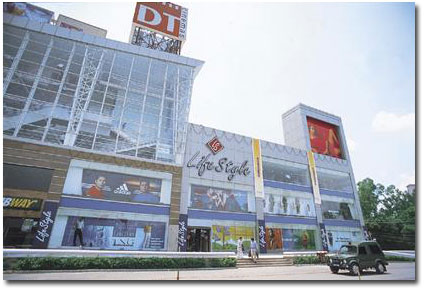 The first mall, City Centre, that commenced operations in the first week of December, 2002 is today the ultimate retail destination with a footfall of 15,000 people on weekdays and 25,000 on weekends. Constructed in a record time of 16 months, City Centre with a covered area of 2.5 lakh sq.ft. has changed the concept of shopping and entertainment in DLF City. The main reason for the success of City Centre goes to a judicious mix of retail outlets. Out of the 146 outlets, 36 have become functional at City Centre. These range from Lifestyle anchor store to traditional stores like Meena Bazaar, Bombay Selections, Maspar, Hang Ten to Crossroads Supermarket and seven restaurants - SubWay, Barista, Ruby Tuesday, Mojo, Buzz, Milkfood Café 100 and China White. City Centre has revolutionalised the retail marketing by bringing prominent brands under one roof with world class facilities.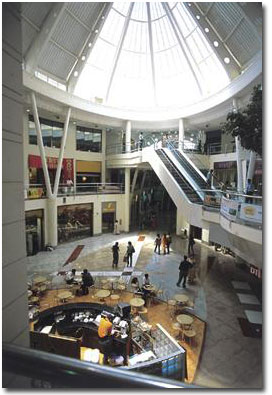 City Centre has emerged as shopping, leisure and entertainment destination. The Mall provides automated parking systems for one thousand cars on surface and basement. A sound security system is functional round-the-clock, elevators and escalators facilitate customer movement. The entrance to City Centre has a specially designed ramp for wheelchairs used by physically challenged persons. The Mall has been provided with 100% power back-up in all areas such as shops, cinema, restaurants, basements or common areas such as corridors and parking lots. A conveniently placed cafeteria in the lower ground floor caters to drivers who can be called to the main entrance through a car ushering system.

India's first Brand Super mall spread over 2.27 Lac Sq. ft. is a unique Shopping mall which shall comprise company owned Brand outlets and flagship stores promising complete range of products and latest offerings.
It offers an international class environment global brands and a comprehensive package recreational and leisure activities. This Mall has been expertly designed by W.S. Atkis, global leaders in architecture and engineering consultancy.
Having earthquake resistant construction designed to international standards, it provides a shopping, entertainment and leisure environment never before. It is the mall of the future.

Gurgaon could well be renamed 'Foodgaon', what with the burgeoning number of eateries opening up there. And the new food court at the Metropolitan Mall, called the Taste Buds Rooftop Food Court, is yet another addition.
Here, people can finally get a taste of McDonalds, Stone Oven, Wok Express, Simply Indian, Arabian Nites, Wrap & Role, Amoretto's and Baskin Robbins all in one straight row and under one roof.